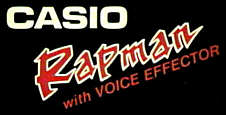 RAP-1 (digital children keyboard with voice changer)

This keyboard from 1991 has many rap/ rock/ house rhythms and a weird sounding microphone voice pitch changer which can be used to feed the own keyboard sounds back through it as an effect.
main features:
32 mid size keys
polyphony 3 notes (only one note when rhythm plays :-( )
30 preset sounds
25 rhythms (partly with fixed- key accompaniment)
voice changer with 5 position slider
3 drum pads + scratch disc controller mock-up (works just like 2 buttons) + mode button to switch between 2 fixed sound sets for these.
The PCM sound generator corresponds to Casio SA series instruments. It synthesizes each instrument sound by a combination of 2 mixed wavetable samples with complex envelopes.
crystal clocked 25 MHz CPU "OKI M6521-06, IX2003" (SMD) + separated voice changer IC "OKI M6322, 183034"
eastereggs:
The 2 short samples from both ends of the "scratch disc" can be played simultaneously without problems despite the mechanical design of the disc normally prevents this.
This instrument can make incredible noises by feeding its own sounds through the microphone back into the voice changer. The results are e. g. very eerie, droning, booming and disharmonious noises those can be compared best with the horror movie music that Oskar Sala composed on the instrument "Mixtur- Trautonium". Also somewhat acid- like tweeting can be produced. I plan to add a knob for internal direct feedback for this.
modifications:
voltage regulator added, AC adapter jack polarity re-wired to standard.

(More is planned.)
notes:
Touching the crystal pins with metal crashes the cpu and often makes very interesting drum rhythm mess. I found no satisfying way yet to replace the crystal with anything controllable that has a wide enough frequency range for a good pitchbend, but modifications for this are planned. Also a shitshot by re-plugging the AC adapter can mess up the sounds in sometimes interesting ways.

The property that there is only a 3 voice polyphony which reduces to 1 voice when rhythm plays (no matter whether the selected rhythm makes use of the 2 occupied melodic voices) is a sign of very poor software design. I guess that the hardware can manage at least 4 voice polyphony, of which unfortunately one voice is always statically assigned to the percussion sounds of rhythm and drumpads (even when none are used). It is a pity that nothing can be reprogrammed in this instrument; some sounds (sitar, wah- vox etc.) are very nice.

If you like this keyboard's voice changer, also watch out for the Casio VA-10, which is a small home keyboard with digital effect processor for the internal keyboard sounds and monophonic microphone input (stereo reverbs, pseudo- vocoder and much other strange digital sound stuff). The sound quality of this one is not really better than the Rapman, but way more versatile and polyphonic. Beside the Rapman RAP-1, Casio also released (later?) a belt- mountable rhythm/ scratch sound toy with voice changer named Rapman RAP-10 (5 scratch variants, 4 drumpads, 10 rhythms, seen on eBay but I don't own one).

| | | |
| --- | --- | --- |
| removal of these screws voids warranty... | | |
| | | |
| | back | |