Yamaha PSS-14 (lo-fi wavetable toy keyboard with unusual granular sounds)


This tablehooter from 1997 is the midsize version of the pretty Yamaha PSS-7 mini keyboard. Unlike the latter it is now 4 note polyphonic, has 2 tinny speakers and some different demos, but the rest is identical. It was also released with silver control panel as Yamaha PSS-15.

(For details see Yamaha PSS-7.)
different main features:
32 midsize keys
2 speakers (those sound very thin, hollow and have an unpleasant midrange resonance)
main voice polyphony 4 notes (only 2 with accompaniment)
CPU "Yamaha YMW716B-D, 9729 FADE, Japan" (28 pin DIL)
2 demos changed
| | | | |
| --- | --- | --- | --- |
| The control panel shows many comic style icons. | | | |
modifications:
polarity protection diode added.
notes:
The speakers of this tablehooter roar unpleasantly hollow and make not really more bass than the tiny Yamaha PSS-7. Generally this instrument plays louder than the PSS-7, which makes the button press bongo noises (those knock at full volume) already a bit unpleasant, although the normal sound can be set low enough. There is also some beeping static keyboard matrix noise present in the sound ( independent from the volume setting). Also here the black keys have no protection against bending upward, but at least they are less flimsy. The stylish control panel is labelled slightly differently; it has e.g. more names and less icons, "Polovtsian" is called here "Stranger", "Comic Dancer" = "Comic Panther", "F Guitar" = "folk guitar" etc. But as well the sound & rhythm bank itself as the low sample resolution are identical with the Yamaha PSS-7, thus its only technical improvement is the 4 note polyphonic main voice sound, which is also nice to rhythmically improvise with the many strange percussion and note sequence preset sounds of this instrument; the rhythm sequences (drum patterns) e.g. make nice phasing effects when played on multiple keys simultaneously.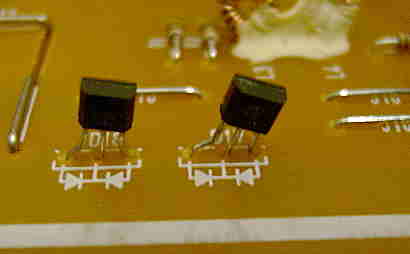 Technically unusual is that the hardware design abuses transistors instead of keyboard matrix diodes (1 transistor replaces 2 connected diodes) to reduce the part count. This keyboard also had no polarity protection diode anymore; most older Yamaha instruments have one. (Only my fullsize Yamaha DJX MIDI keyboard also lacks it.) The CPU here is a "Yamaha YMW716B-D"; someone told me by e-mail that his Yamaha PSS-14 had a "YMW 716D-D" CPU instead.
The 10 demo melodies are:
Wannabe [= pop song "Do You Wannabe My Lover?"]
Mickey Mouse March
Happy Birthday to You [with glissando]
Chopsticks
I Saw Mommy Kissing Santa Claus
Pop Goes the Weasel
Gallant Pig
Awarding an Honor
Mission Impossible
Over the Rainbow [very bluesy]
The melodies "Little Brown Jug" and "Jingle Bells" of the PSS-7 here have been replaced with "Wannabe" and "Happy Birthday to You", but the arrangement of the rest seems to be the same, thus most are still way too short.

| | | |
| --- | --- | --- |
| removal of these screws voids warranty... | | |
| | | |
| | back | |