animal train sound toy (blue)

This blue sound toy plays animal voice and steam locomotive samples. It has no brand name, but the case style resembles my Creatoy keyboard.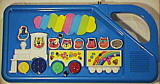 main features:
8 OBS animal voice samples
4 OBS steam locomotive samples
sound generator consists of 2 independent monophonic OBS ICs (1 for animal samples, 1 for train samples), which permits to play 1 train and 1 animal sample simultaneously.
resistor controlled clock oscillators
modifications:
independent stop (reset) buttons for both sound ICs added
cinch sound output added
(more may follow)
notes:
The samples are very low resolution, but may be fun for tekkno.

| | | |
| --- | --- | --- |
| removal of these screws voids warranty... | | |
| | | |
| | back | |